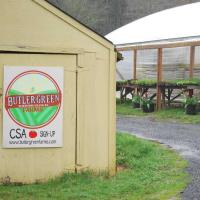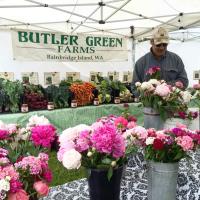 Butler Green Organics
Contact: Brian MacWhorter
Address: PO Box 4458 Rolling Bay, , 98061
Email Address: farmhand@butlergreenfarms.com
Phone: 360-620-5181
About Us
Butler Green Farms has grown organic fruits, vegetables, eggs, and meat in Kitsap County since 1984. Brian MacWhorter and Amy Kuhl started farming professionally over 40 years ago near Eugene, Oregon before moving the farm and family to Bainbridge Island in the mid 80s. Brian has helped our community create a thriving market for organic produce with his involvement in local farmer's markets, grocery stores, restaurants, and farm-based education programs for local schools through the Educulture Project.

Known for his ability to extend the growing season, Brian operates many greenhouses and several low tunnels to produce high quality greens and root vegetables throughout the winter and thousands of heirloom tomatoes in the summer. Committed to growing food in a way that is healthy for eaters and the environment, Brian and his team use biodynamic and organic practices that build biodiversity and soil health while producing nutrient dense foods.

Butler Green Farms currently cultivates 25 acres on Bainbridge Island, spread out all across the island. Farming locations include, the Suyematsu/Bentryn Family Farm on Day Road, Johnson Farm on Fletcher Bay Road, and many others. We offer a "market style" CSA where members can pickup exactly the assortment of vegetables, meats, and fruit their family needs. In addition to the Saturday farmers market, CSA members can visit our stand at 8862 Lovgreen Road, Tuesdays and Thursdays from 2:00 until 7:00 PM.

Visit our website for more information or to sign up any time for a CSA membership. Whatever value you don't use, we'll roll over to next season! You can also find us on Facebook and Instagram by searching @butlergreenfarms.